By Tanya Tarr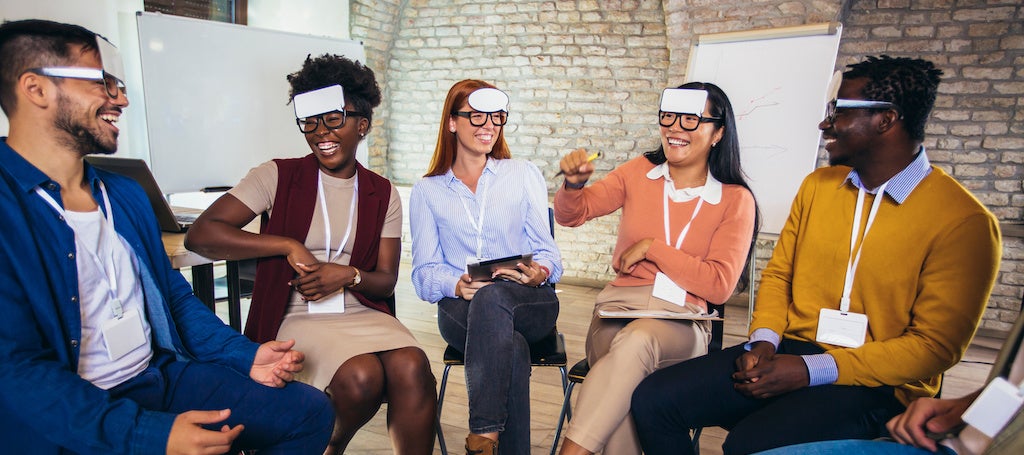 Working together and having fun together aren't mutually exclusive. In fact, playing short, simple games with coworkers can enhance your team's ability to collaborate and problem-solve.
---
"Teamwork is the secret that makes common people achieve uncommon results."
Ifeanyi Onuoha, Educator and author of Overcoming the Challenges of Life
---
If you have ever seen a chorus line perform live on stage, or watched a football team flawlessly execute a play to score the winning touchdown, you know how mesmerizing it can be to witness a team working in perfect synchronization. How does this seamless execution come about, and how can we apply it to the workplace?
Shortly before the pandemic started, I observed a team of flight attendants as I boarded a plane. They cracked jokes like a group of good friends at a happy hour. When they gave us emergency instructions (evacuation procedure, oxygen mask deployment, etc.) they did so with precise timing. They did not look at each other, but moved their arms and pointed together in perfect synchronization. It was like watching a ballet.
Neuroscience tells us that when people move in synchronous action, they create and activate mirror neurons, which are brain cells that respond equally when we perform an action and when we witness someone else perform the same action. Scientists think these neurons help us learn and cause us to experience emotions such as empathy, belonging and a sense of safety. A study from 2009 also suggests that when we share synchronous experiences together, it can lead to better group cooperation and problem-solving. In fact, the positive effect of synchronous activities can be so strong, that it can improve collaboration, even among team members who do not like each other.
How can we create meaningful moments of synchronization with our coworkers? One way is to play games or solve word problems together that involve logic and memory. Ideally, the games would be played together at the same time, but even a slightly asynchronous game can create a sense of connection and community. For example, a colleague of mine mentioned that a daily crossword puzzle was posted on a community whiteboard at her office, with pencils included. Employees would take a moment to fill in a few blanks on their way to a coffee break or a meeting. Sometimes a group would gather to brainstorm a particularly challenging word, creating a sense of community across departments. Another company created the same sense of community through crossword puzzles via Zoom. According to the company's head of people, "One person found a puzzle, and we all would pile into Zoom." One person would "drive," and everyone else would shout out or type potential answers in the chat box. It was an effective way to maintain team connection during the pandemic and afterward.
A friend from a large Texas company would host weekly 20-minute trivia games with his team. This helped to create an important ritual of virtual engagement during the start of the pandemic. Over time, they stopped the virtual weekly meetups, which seemed to coincide with a decrease in employee engagement. So, they started up again, even as some coworkers returned to the office and the company transitioned to a hybrid working model.
Another popular option is the game Scattergories, which involves generating a list of words based on one letter offered at the beginning of a round. Players have two minutes to generate their list and then share their answers with all the other players. Every unique answer is a point, and every repeated answer gets crossed out. Participants have to work separately and as a group. The game is easy to learn and can be played in person or on video conferencing with ease.
While playing a logic game with coworkers might initially seem less than productive, science suggests it can boost productivity. Dr. Nathaniel Kleitman found that our bodies operate on a cycle of being active for 90 minutes and inactive for 20 minutes, a phenomenon he named the "basic rest-activity cycle." Dr. Kleitman was researching sleeping patterns, but he and other scientists found that the same principles apply to cognitive tasks as well. Playing short, simple games with coworkers can be a way to create a 20-minute break of "active rest," which can give the brain a needed reset.
Games with coworkers have the additional benefit of creating a "flow state," a phrase coined by psychologist Dr. Mihály Csíkszentmihályi in 1975. The term refers to when someone is fully immersed in energized focus and enjoyment in a process of the activity. Dr. Csíkszentmihályi and others also further define characteristics of a flow state to include:
A sense of control over the activity with a clear sense of direction
A balance between participants' skill and the challenge
The task is engaging and requires strong focus
The task gives a break from an external cognitive task
The task is accessible
Taking breaks to create a flow state – either individually or with coworkers – can be an effective remedy for burnout. So the next time you get a sense of disengagement or apathy at work, consider asking coworkers and team members to play a short game together. The result could be increased engagement and a better sense of community at work, with employees feeling more focused and productive.
---

Tanya Tarr is the founder of Cultivated Insights, a corporate learning and development company, and is also a senior contributor to Forbes where she writes about leadership and burnout. Trained as a behavioral scientist, Tanya worked for seventeen years in political and legislative campaigns across the United States and brings her perspective on how to support burnout recovery through her lens as a scientist, journalist, leadership strategist and woman of color.
---
Learning and professional growth go hand in hand. For regular career insights and information on continuing education programs offered by UT's Center for Professional Education, subscribe to our monthly e-newsletter, It's Your Career.