By Anne Evenson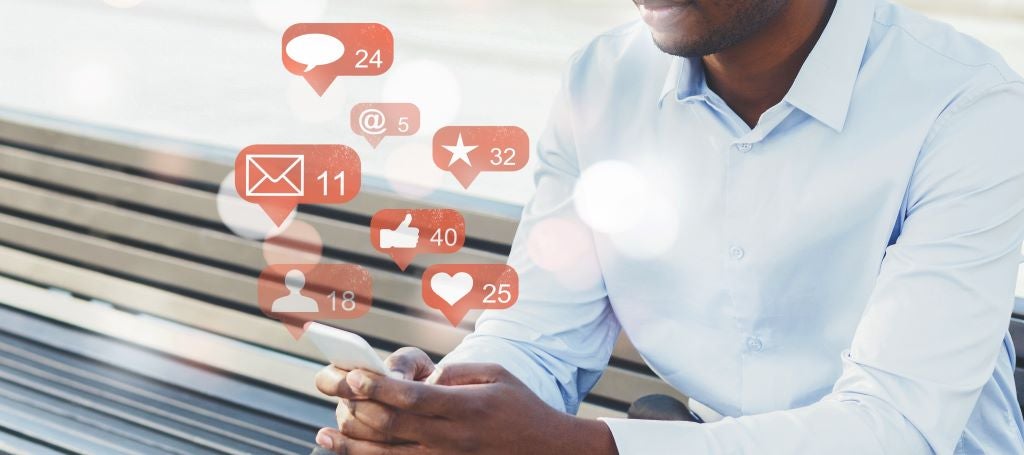 Social Media could be the first encounter someone has with your personal brand, so make a great first impression and use social media to your professional advantage.
---
"Social media is not just an activity; it is an investment of valuable time and resources. Surround yourself with people who not just support you and stay with you, but inform your thinking about ways to WOW your online presence."
Sean Gardner, Forbes Social Media Power Influencer, AI specialist
---
The days when social media was just for fun are long gone. With billions of users and millions of organizations worldwide on platforms like Facebook, Instagram, LinkedIn, YouTube, Twitter and more, there's no better way to connect professionally with companies, leaders, industry groups and hiring managers. Whether you're looking to kickstart a stalled career or head in a new direction altogether, discover how to use social media to promote your personal brand and help improve your career opportunities.
Create or Update Your Professional Profiles
It's not uncommon for recruiters to screen applicants by evaluating their social media profiles, so it's critical to represent yourself virtually in the same professional manner you would in person. Give your social media profiles a professional polish that accurately reflects your personal and professional identity. Remember that your social media presence could be the first encounter someone has with your personal brand, so you want to make a great first impression.
It's best practice to have your social media profile display name and your username the same as your real name unless you have a business, in which case it's okay to use your company name as your username. Try to keep your username consistent across all social networks, and you should include your username in your URL if the platform gives you the option to customize your profile link. Use a professional headshot that's the image size and resolution required by the platform and use the same one across all accounts. Tell your story with a profile bio that makes a statement. Talk about how you got into the industry, why it excites you and what your plans are for the future. Remember to use keywords and add a call to action at the end when you want to be contacted by recruiters or for networking. For example, ask people to contact you directly to discuss supply chain management or invite people to join you in your mission to protect the environment.
Showcase Your Expertise
Whether you're a writer, welder or wildlife biologist, take advantage of the many opportunities that social media offers for self-promotion. Don't be afraid to show off your skills, competencies and talent and highlight your strengths and experience. Use photos and videos to document your work or visually communicate your ideas or concepts. Write and publish articles and blog posts that demonstrate the depth and breadth of your knowledge in a particular area. List any technological skills or software proficiencies.
Ask current and former colleagues, supervisors, professors and mentors to endorse you via LinkedIn or to write letters of recommendation that you can share online. Cultivating reviews and recommendations in your professional profiles allows others to communicate and validate your skills and expertise for you. Don't forget to share any volunteer experience as well!
Curate Relevant Content
Curating industry-relevant content on your social media platforms is a great way to add authenticity and a deeper degree of connection with people who might be new to your brand. Share articles, books, documentaries and profiles of industry influencers. The goal is to add value for your audience and inspire them to engage with you in a meaningful way.
On Twitter and LinkedIn, check out Grace Bello, a Senior Account Director and Content Strategist for Group SJR, a New York-based marketing consultancy, and see a fine example of curating interesting and pertinent professional content while maintaining brand identity.
Network With Like-Minded People in Industry-Specific Digital Communities
According to a survey conducted by Lou Adler, CEO of performance-based Hiring Learning Systems, 85% percent of all jobs are secured via focused networking. Therefore, it's essential to network effectively and often with others who work in your field to cultivate career growth. Join industry-specific social media groups and communities on platforms like Facebook and LinkedIn to connect with industry experts and peers, stand out to recruiters and hiring managers, and cultivate other online relationships that could become possible real-world career opportunities. In addition, look for employment boards within your groups to find job postings.
Then practice being assertive with a trusted confidant. Try role-playing with a friend or family member Contribute to or begin fruitful discussions on trending topics in your field, comment on ongoing conversations and offer germane blog posts and articles. You'll expand your network and position yourself as an industry expert. Offer something of value whenever possible during your interactions, so people will be more likely to recognize and respect your personal brand. Sometimes helping someone else can be a great career move and just a nice thing to do. And don't be shy about asking your new connections for an informational interview or a casual Zoom chat. The more you network, the more likely you'll remain top of mind when someone is trying to fill a position within your field.
Follow Industry Experts & Organizations
Research organizations you're interested in on social media to understand their culture and stay updated on job postings and relevant networking events. Track the discussed topics or shared articles as these are clues to the company's values. And remember, birds of a feather flock together, so follow industry experts to discover where their interests lie and how and to whom they contribute content.
Check out specific hashtags on Twitter and Instagram, like #nonprofitjobs for positions with nonprofit organizations or #womeninleadership to learn more about women in executive roles. Some organizations even use Twitter for their hiring needs, such as AT&T Jobs for employment in the telecommunications field or Disney Careers for those interested in animation.
Whatever your career goals are, social media is a powerful tool used by just about everyone, so it makes sense to use it for your professional advancement. It's an invaluable resource that allows you to find organizations that share your values, gather intelligence on industry experts you admire and respect, and find the community and support of your peers. As long as your professional profiles reflect your personal brand, don't hesitate to get out there and boost your career into the stratosphere.
---
Anne Evenson is a native Austinite and a proud Veteran's spouse with over 20 years of marketing, communications and program coordination experience in the public, private and nonprofit sectors. She is also a sculptor, jeweler and all-around dabbler in the arts and loves to help military-connected individuals discover their inner creativity.
---
Learning and professional growth go hand in hand. For regular career insights and information on continuing education programs offered by UT's Center for Professional Education, subscribe to our monthly e-newsletter, It's Your Career.