By Anne Evenson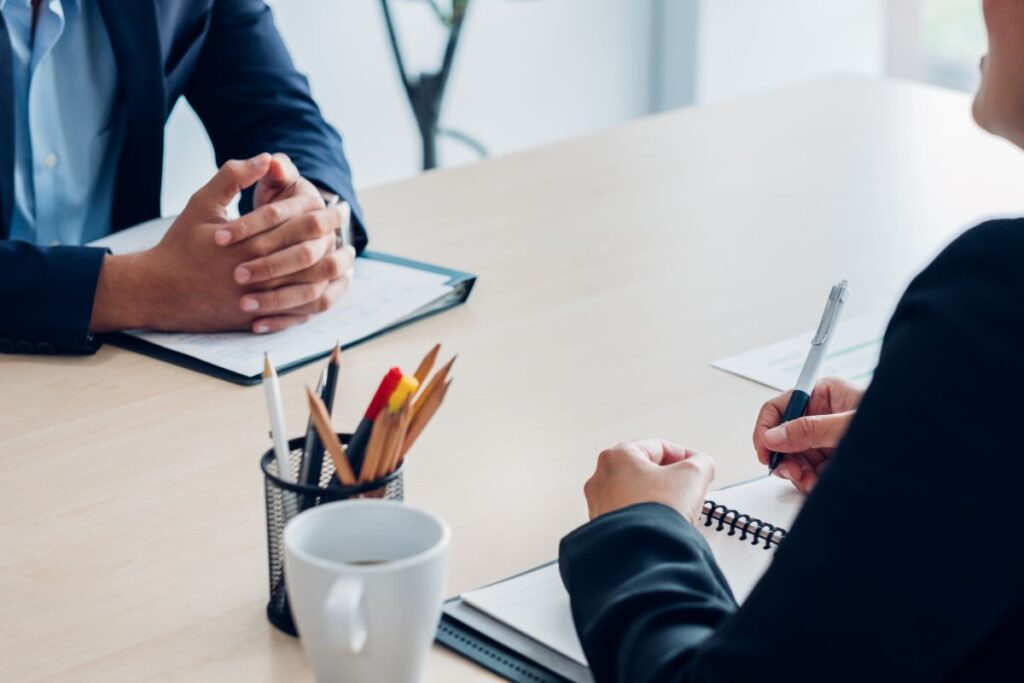 Job interviews are typically thought of as a Q & A session where the employer asks the questions and the candidate answers them. However, it's important to remember that you are interviewing them too! Read on and discover the top ten warning signs to look for when interviewing for a new position.
---
"Red flags are moments of hesitation that determine our destination."
Mandy Hale, blogger, author and speaker.
---
Have you ever heard the phrase, "Remember, you're interviewing them too," while on the job hunt? While you can't foresee precisely how a new position will pan out, being cognizant of possible red flags throughout the interview process can help you avoid accepting an offer from an organization that's not a good fit for you. You'll always make a more informed decision by carefully observing your interviewers, their behavior towards you and their colleagues, and how they manage the interview process. Read on and discover the top ten warning signs that all may not be well behind the scenes.
Repeated Rescheduling, Tardiness and Disorganization
Most interviews today involve multiple individuals, so rescheduling once isn't a surprise. However, repeatedly moving your appointment around or making you wait in reception for an hour signal that they don't value you or your time. Are their communications scattered, or do they send you the wrong video conferencing link? These recurring missteps can indicate other systemic issues within the organization that you'll likely face if you work there. For example, I set a phone meeting with a potential freelance client to discuss a possible collaboration. After he failed to turn up for the second rescheduled meeting, I told him I was no longer interested. If he couldn't talk to me about the job for fifteen minutes, the work would probably be more of a headache than it was worth.
Core Values Are a Mismatch
Before you begin your job search, be sure of your core values. Then research the company's values – not just what they say they are, but what they actually represent to ensure that your values align with theirs. For instance, if you value pay equity, and the organization you're interviewing with states that they are committed to this practice, ask what processes are in place that support pay equity for employees.
Dynamic of Disrespect
This red flag probably seems like a no-brainer, but it can be easy to miss when you're in an interview focused chiefly on appearing poised and knowledgeable. Interviewers who are overtly rude to you or their colleagues or display more subtle microaggressions should set your alarm bells off. Pay attention to people's tone of voice, body language and facial expressions, as these can sometimes be evidence of low psychological safety. Negative comments about the person who held the role previously and former or current employees suggest that this may be a toxic workplace. Once when I was interviewing for a position, one of the interviewers exhibited overt microaggressions, which I initially dismissed. She proved later to be an emotionally abusive supervisor who made my professional life very difficult.
Response to Questions Lacks Clarity or Consistency
Pay special attention to the answers the interviewers give to your questions. How well do you understand the responses, and how explicitly do they explain things? Look for consistency across the interview panel. You'll likely be interacting with possible future colleagues and other various stakeholders as you move through the interview process. Be sure to have a few questions ready for each person so you can appreciate their perspective. One of my favorite questions is: "If you had the power to change one thing about the company, what would it be?"
Beware of the Bait and Switch and Buzzwords
Be wary when the job interview sounds very different from the job description. Sometimes roles and responsibilities change, especially if the organization is new or growing quickly. However, if the recruiter doesn't explicitly highlight the modification, this may suggest poor communication or ineffective change management. Also, be alert for vagueness; a good hiring manager should clearly explain all job duties and responsibilities, what team you'll be on, and to whom you'll report. Lastly, watch out for the overuse of buzzwords like "self-actualization," which could be code for "we have no training or professional development resources." Or "we wear many hats," which often means "we're understaffed and need people to do several jobs for one salary."
Inappropriate Comments or Questions
Beware of illegal interview questions about age, gender, sexual orientation, religion, disability, marital status, pregnancy, race or ethnicity. Some state and local governments even prohibit employers from requesting your salary history. Also, watch out for inappropriate comments like an interviewer offering an aside about someone's personality or appearance, "He's a slacker, but he's always on time," or "As long as you're outgoing and like to have fun, you'll already be way ahead of the person you're replacing." These kinds of remarks often reflect a culture of bias; whether conscious or unconscious, it's probably a workplace you'll want to avoid.
Signs of Disengagement
Positive interviews should be conversations, not interrogations. Both sides should feel energized and excited about possible future collaborations. Look for signs of a lack of connection, like not smiling or no eye contact, seeming distracted or speaking in a robotic monotone, or not listening to you. These behaviors may signal that they aren't interested in you as a potential employee. Also, pay special attention to a shift in engagement levels during the interview process, as this could indicate they have their eyes on someone else.
Resistance to Change
Ideally, organizations create job openings to improve their business by hiring the best person to develop better products or services, innovate operational efficiencies, engage consumers and perform other essential business functions. Implementing these changes requires an improvement mindset throughout the organization. Companies resistant to these critical transformations may have outdated websites, antiquated technology or obsolete processes. For example, a former colleague recently had to complete a pdf job application that was not fillable. He had to print the form and write in his responses which felt very outdated.
Excessive Interviews or Overly Protracted Interview Process
While having a few successive interviews with different tiers in the stakeholder hierarchy is customary, it's generally unnecessary to exceed an average amount of vetting with most interview candidates. Situations with more than three or four interviews are usually reserved for C-suite level candidates; otherwise, this may suggest that the organization is indecisive, overly focused on consensus, or has issues completing projects.
Ultimatums
Sometimes called "exploding job offers," these unrealistic expectations are often presented within a minimal timeframe and usually have a hard deadline. For example, a company once offered a job to my friend on a Friday afternoon with the stipulation that she must accept by Monday morning, or they would rescind the offer. Also, a hiring manager should never pressure you to interview too quickly or only on their schedule or make any other unreasonable demands. And they should always provide you with a clear timeline for the hiring process.
Ultimately, the most important thing to remember is that the organization you're interviewing with should leave you feeling excited and engaged. If they are worthy of your time and talent, they will strive to make as positive an impression on you as you make on them. And don't wait until they extend a job offer to make your decision; instead, conduct a quick debrief with yourself immediately after the interview. After all, where and whom you work with are a big part of your life, and you want to make the best decision possible.
---
Anne Evenson is a native Austinite and a proud Veteran's spouse with over 20 years of marketing, communications and program coordination experience in the public, private and nonprofit sectors. She is also a sculptor, jeweler and all-around dabbler in the arts and loves to help military-connected individuals discover their inner creativity.
---
Learning and professional growth go hand in hand. For regular career insights and information on continuing education programs offered by UT's Center for Professional Education, subscribe to our monthly e-newsletter, It's Your Career.