By Carl A. Gillingham
Tips from one man's personal experience working from home for the long haul.
---
"Follow your passion, stay true to yourself, never follow someone else's path unless you're in the woods and you're lost and you see a path then by all means you should follow that."
Ellen Degeneres, American Comedian, Television Host,
Actress, Writer, and Producer
---
Due to what we need only refer to as "recent events," my skill-set has suddenly become somewhat prized. You see, I've worked from home (WFH), more or less successfully, for around ten years now. As such, people who are new to the world of the 10-foot commute, video conference etiquette and raging cabin fever have been asking me for tips on how to cope.
And, the thing is, you all know what you're supposed to do.
You know by now that you need to dress for success, that you need to set work/life balances, that social media is an essential lifeline with the outside world and a defense against the aforementioned cabin fever (while also being a potential distraction and time-suck). These are the things that everyone is telling you because these are the things that almost universally work. So follow those.
However, we are all fascinatingly individual, so here are some extra tips, previously only available to friends and family, that I've found to be genuinely useful for me.
First, you need workmates. You think you don't need workmates, but you do. Although being away from a physical office means there are fewer office-politics shenanigans to deal with, it also means you have fewer opportunities to vent when something goes seriously awry. Without that essential release of emotional steam, things can fester.
I have three workmates. I have John Henry, Jordan, and Miss June Carter. And I have Spotify. Music streaming services, along with home-delivery services and television-streaming services, will be fighting like tigers to get your business now there's so many more of you looking for distraction and company inside your home offices. Take advantage of as many free trials as you can.
WFH could mean you never have to walk more than 50 steps in any direction to get where you need to be. This is convenient, and maybe even living the dream, but combined with the inevitability of increased snacking, this lifestyle could lead inexorably to major health problems.
So, you might find it useful to have a dog. Something that needs to be walked, whether you want to go outside or not. Previously, of course, you could have gotten a gym membership, but social distancing and increased germ-phobia means this is a less appealing (or a simply impossible) option. Your dog, whether it's raining, snowing or 100 degrees outside, needs to be walked or you will be cleaning your floors more regularly than you ever imagined possible.
Take breaks. This, again, is where a dog becomes useful. I have a set lunchtime every day, and I rarely get to actually eat lunch at that time. I'm out, walking the dogs. If I do get time after that, then I don't spend it at my desk. I spend it somewhere else, somewhere away from the screen with its constant, unceasing stream of email coming in at me. When I break for lunch, I turn the sound off my computer so I can't hear the PING of emails coming in.
Make snacks the night before. Chop up carrots, cucumber, maybe mix some spinach with some roast chicken. Having that prepared makes it more likely you'll eat it during the day rather than spending time scavenging for chocolate or cake. You know you make bad decisions; the trick is to make doing the right thing easier than doing the wrong thing. You have to treat yourself like you're an especially wily six-month-old puppy rather than a grown adult with the most advanced brain of any species on the planet.
Oh, and you should definitely shower and dress for work, shut your computer down at a reasonable time every evening, and use social media to stop yourself losing touch with friends and family, without letting it become a distraction. Those articles all over the internet are not wrong. Take a look…but not when you're supposed to be working.
---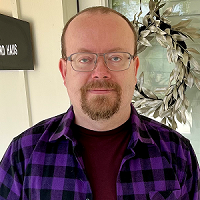 Carl A. Gillingham is a copy editor and writer with over 20 years of experience in digital and print publishing, spanning educational publishing, marketing and social media sectors.

---
Learning and professional growth go hand in hand. For regular career insights and information on continuing education programs offered by UT's Center for Professional Education, subscribe to our monthly e-newsletter, It's Your Career.