By Sandra Kleinsasser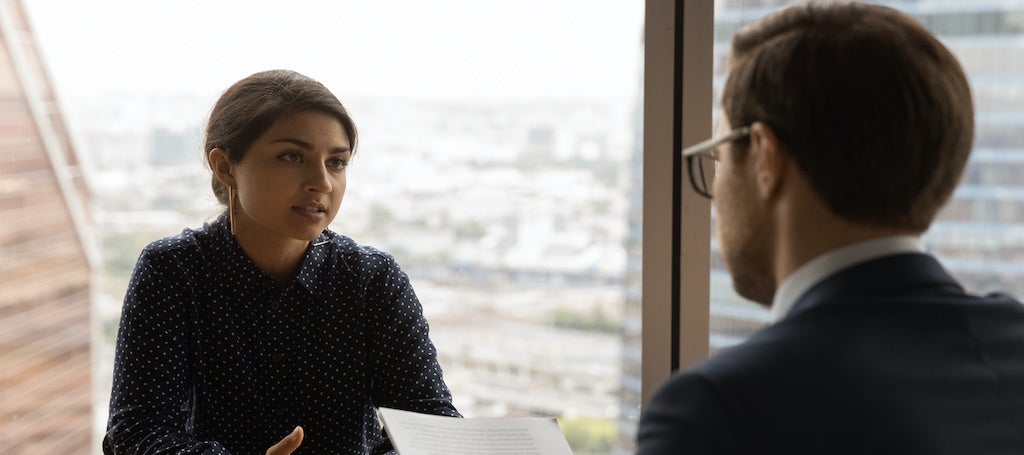 Talking about yourself isn't easy, but being a self-advocate is crucial for your career advancement.
---
"Don't assume that everyone can recognize your value through your day-to-day actions. Take the time to look at your history and articulate it: 'Hey, this is what I have done. This is what I've contributed.'"
Tracey Lovejoy, Catalyst Constellations
---
Whether asking for a raise, negotiating a new job, making the case for a promotion or brushing up your resume, beware of one of the most common roadblocks. Talking about yourself!
Pointing out your value can feel like bragging, and many of us are conditioned to find self-promotion embarrassing or uncomfortable. But, who else will advocate or negotiate for your career advancement? If you want to move ahead, you must understand your value and be able to put it into words, in writing and in conversation.
"Consider your value in negotiations based on what you do, your deliverables, the problems you solve for your customer," said DeAnne Pearson, career coach and owner of Deliberate Careers. "Your 'customer' could be your boss from whom you would like a raise or a promotion or a hiring manager during a job interview."
Learn to think of your value and goals in business terms, leaving emotion behind.
Where do I start?
Tracey Lovejoy, coach and researcher at Catalyst Constellations, breaks down these steps in her popular CPE webinar, "Articulating Your Value."
Know where you are going
Know your strengths
Translate your value to your audience
Take action
Let's step through her guide.
1. Where do you want to go?
Determine your goals, both immediate and long-term.
As the old saying goes, if you don't know where you are headed, how will you know when you get there?
Are you a technical person who will have to shift to a people-oriented (management) role? Or a people person who needs more technical training?
Is it time for your annual evaluation with your boss? Are you freshening up your resume? Negotiating a new salary? Asking for a promotion or raise?
What do you want to accomplish in each situation?
2. Take inventory
Knowing your strengths and what makes you stand out will help you get clear on what you want to promote, especially for your resume or LinkedIn, Lovejoy said.
Reviewing strengths builds confidence, too. Lovejoy encourages everyone to keep a personal "Greatest Hits" inventory.
"Think about your professional history. The moments where you felt really proud. Maybe it was a project you worked on, maybe it was something that had amazing statistics, maybe you made a lot of money for the organization, maybe you got feedback from students that was really meaningful. Those stories are going to be very important in promotions as well as in being able to have conversations in job interviews," Lovejoy said.
Once you have identified strengths, consider the specific elements that are valuable to your "customer."
"What is important to your 'customer' needs to be expressed in a way that matters and makes sense in the situation," Pearson said. For example:
Time Saved
Money earned
Risk averted
Number of new customers
Territories conquered
Number of sales per quarter
Retention of employees
Completed projects
3. Translate for your audience
Tailor your message to match how key decision-makers express value. Use their terms when possible. Specific, measurable results are best.
For example, "works very hard" may be absolutely true, but "averaged 12 sales every month for the past six months," shows concrete value.
Consider these resources to help find relevant terms.
The job description
Past performance reviews
Corporate communications or public statements about the company's values
A trusted coworker or mentor
Job applications can be especially tricky.
"If you know one of your key strengths is going to be collaboration, but in their job description, they talk about interdisciplinary teamwork, make sure you talk about your strength of interdisciplinary teamwork. Those words are top of mind for them." Lovejoy explained.
| Weak | Better |
| --- | --- |
| Completed all duties as assigned, closing out first quarter with profits. | Posted 10% increase in first quarter profits for assigned territory. |
| More than 10 years' experience writing educational module. | Wrote 7 educational modules in 2020, all approved on first draft. |
4. Work your plan
Talking about your worth takes practice, but it does get easier.
Start with your written list of "Greatest Hits." Take a deep breath and read them out loud until you are comfortable. Feedback from a trusted colleague, friend or mentor is valuable at this stage.
Ultimately you must ask for what you want, Lovejoy explains. Practice asking for the raise, the new job, the promotion.
Then, follow through. You know your strengths, you have the vocabulary, and YOU are your best advocate. Good luck!
CPE resources:
Free webinar, "Articulating Your Value," including tips on setting annual career goals and regular self-evaluation.
Leadership class, Pitching YOU: Promote Your Best Self.
---

Sandra Kleinsasser is an independent writer/editor and former Executive News Editor at the Austin American-Statesman.
---
Learning and professional growth go hand in hand. For regular career insights and information on continuing education programs offered by UT's Center for Professional Education, subscribe to our monthly e-newsletter, It's Your Career.