By Liz Carmack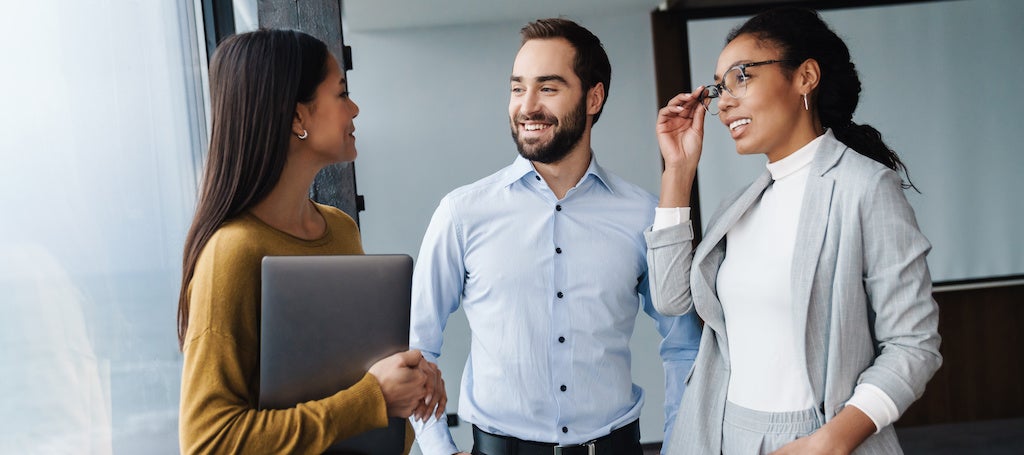 The term "office politics" often evokes images of unethical behavior, but politics in the office isn't inherently evil. Use our seven positive tips to build relationships and improve communication and understanding.
---
"Despite all the negative connotations, office politics are not inherently evil. They are about two things: influence and relationships, and the power these two things give you — or don't"
Niven Postma, Author of You Can't Sit Out Office Politics
---
For many, the term "office politics" conjures images of a backstabbing, gossiping co-worker who lies, takes credit for others' achievements and manipulates bosses to advance their own personal agenda. No wonder many of us proudly proclaim, "I refuse to play politics at work."
But politics in the office isn't inherently evil. You're not a bad person if you participate in a purely positive way to build relationships and improve communication and understanding.
Office politics exist in every organization. You shouldn't ignore this fact. Instead, take a constructive approach, which can help you and your team become more effective and better support your organization's goals. Not to worry. Despite the negative connotation attached to office politics, there is no need to compromise your ethics in the process.
According to a recent Harvard Business Review article by Niven Postma, it's difficult to attain success at the office if you are focused solely on your performance. To attain peak success, you must also build a network of connections to support you and champion your work.
"Office politics are about relationship currency and influence capital – and the power these two things give you or don't give you. The myth that office politics are always unethical or evil needs to be debunked," writes Postma in You Can't Sit Out Office Politics.
I've always intentionally avoided playing office politics. I thought, "How evil and negative. What a waste of time and energy!"
But guess what? I have since realized that I've participated for decades – in an ethical, positive way. As a result, I learned about new opportunities, faced exciting challenges and had the chance to attain satisfying achievements I might not have otherwise.
Here are seven tips on how to use positive office politics constructively:
1. Expand your network by building genuine relationships and mutual respect with co-workers and supervisors both inside and outside your immediate circle. My job satisfaction improved whenever I tried to better understand the organization I worked for, built friendships outside my team and strived to help them meet their goals. If you do the same, you'll also learn about future organizational needs and potential new projects, new positions or other opportunities you might be interested in pursuing.
2. Ensure office decision-makers – whether it's your administrative support or your division supervisor – understand your strengths and your team's capabilities. Clear communication about employees' strengths can improve their chances of receiving the right assignments in which they, and you, can excel and gain job satisfaction. Remember, nobody likes an obnoxious braggart. Get your points across without boasting.
3. Clearly articulate to stakeholders the benefits of your projects to get the support and resources that you and your team need. Postma writes, "If you're savvy at politics, you know that to get your project approved, you first need to understand the priorities and perspectives of those stakeholders. This is an example of how office politics can be ethically used to help you gain an advantage."
In other words, know your audience. Think about how their goals and yours align to best serve the organization, then draft your "ask" accordingly.  Should you need to polish your communication skills, consider taking the Dynamic Communication course offered by The University of Texas at Austin Center for Professional Education.
4. Stay neutral during political conflict. Don't pick sides. I've seen losers in this situation crash spectacularly and take their allies down with them. In How to Navigate Office Politics: A Quick Guide, Joanna Zambas writes, "Remain empathetic to your colleagues but be sure to not give them any ammunition to drag you into their problem – your words can easily be twisted in the workplace and you'll find yourself stuck in the middle of a feud that wasn't your own to begin with."
Try to help defuse the conflict. Suggest to the parties involved that they take the high road by putting aside their differences and focusing on the bigger picture – working together to attain the organization's bigger goals.
5. Don't try to avoid your adversaries; work to turn them into allies. You might be a nice person and great at your job. But that doesn't mean everyone in your organization will like you. Some may even dislike you. Their opinion about you could be based on their own fears, a misperception of you or a misunderstanding about something you did or said. Instead of ignoring them, get to know them better. Keep a positive attitude as you try to understand how you can connect on some level. You'll learn more about them, and yourself, in the process. You might even end up with a new friend.
6. Reframe politics in a positive light. Supervisors can do this by ensuring employees know how to negotiate and build relationships to help them make the most of all opportunities.
The last tip is one of five strategies listed in Office Politics Can Be a Force for Good, New Research Shows, a Phys.org article by King's College London. The article summarizes new research to help organizations foster healthier office political cultures.
7. Don't use office politics to exclude marginalized groups that have historically been kept out of traditional networks. The same article by King's College London emphasizes that managers should ensure leadership development programs and senior networks are made available to employees across racial and gender lines.
Many traditional networks have historically not been available to all. It's crucial that organizational leaders help change that by mentoring members of under-represented groups and making introductions to peers and industry leaders so they can have full access to resources and information needed to help further their careers.
Where there are humans there are politics, and offices are filled with humans. It's best to acknowledge this fact and to realize that office politics don't have to be negative and unethical. You can participate purely in positive, constructive ways that focus on honest communication and mutual understanding to benefit you, your team and your organization.
---

Liz Carmack is an award-winning writer, editor and author of two nonfiction books published by Texas A&M University Press. She has worked as a communications professional for almost four decades.
---
Learning and professional growth go hand in hand. For regular career insights and information on continuing education programs offered by UT's Center for Professional Education, subscribe to our monthly e-newsletter, It's Your Career.