By Bailey Anne Dermanci
What do you get when you take an aspiring cartoonist and add a splash of travel and years as a graphic designer? You get Greg Hervey, the creator of the new Graphic Design Certificate Program.
---
Greg Hervey, our instructor for the Graphic Design Certificate Program, is an experienced graphic designer who brings real-world design and technical experience to the classroom, approaching teaching with patience and a whimsical sense of humor. Greg previously taught for UT's Informal Classes program and as an adjunct professor in UT's College of Fine Arts.
Training Designed with the Real World In Mind
We asked Greg what he was hoping to accomplish by creating the program for the Center for Professional Education. "Developing the Graphic Design Certificate Program gave me the opportunity to put together the kind of training I wish I'd had when first starting out. My degree was heavy on theory, but light on practical application. So, I entered the job market with a portfolio of concept pieces that didn't show potential employers I could deliver meaningful solutions to real problems."
"No one who completes this program will have that issue. It's laser-focused on developing practical skills, building a stand-out portfolio and giving participants the confidence to walk into a job interview and own it."
The Reviews are In!
Valeka C., who took Greg's InDesign course in UT's Informal Classes program, called him a "[f]abulous instructor! I'd take another class with him. [He] made it an enjoyable learning environment."
Heather O. took Adobe Photoshop and described him as "patient, clear, concise, totally knowledgeable and funny. An ideal teacher by all measures."
Get to Know a Little More About Greg
What is the coolest project you've ever worked on? I built a web app for a Chili's promotion called "The Art of the Margarita" that allowed users to compose, color, and submit a margarita-themed original piece of art. The deadline was tight (as always), but it was great fun to design a compact interface and figure out the programming, even developing a Photoshop-style color picker (long before HTML5 made them standard).
What is an example of something that you like so much you wish you'd designed it? It's so simple, but the SpaceX logo is one of my favorites.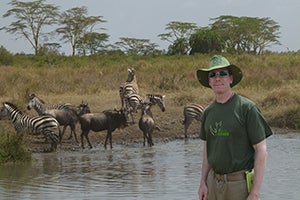 What do you like to do outside of your work as a designer? I'm a travel junkie: 50 countries and counting! My fantasy is to spend a whole summer living in Bangkok to learn my way around like a local. Then do it again in Auckland. Then Tokyo… then Dublin… you get it.
What inspired you to become a graphic designer? I thought I'd be a cartoonist, but while discovering how hard it is to break into that field, I discovered computer illustration and image editing, which paid the bills. Before long I was getting really good, and teaching others to do it too.
What's the best piece of advice you would give someone who is considering entering the design field? Diversify your skills. This field is filled with people who can do one or two things really well, but a broad skillset sets you apart and opens many opportunities.
If you are interested in learning how the Graphic Design Certificate Program aligns with your career goals, you can talk directly to Greg at one of our upcoming info sessions or reach out to Enrollment and Success Coordinator Brett Brinegar.
---
Bailey Anne Dermanci is a senior marketing coordinator. She holds a bachelor's degree in English Language and Literature from Washington University in St. Louis.
---
Learning and professional growth go hand in hand. For regular career insights and information on continuing education programs offered by UT's Center for Professional Education, subscribe to our monthly e-newsletter, It's Your Career.