By: Anne Evenson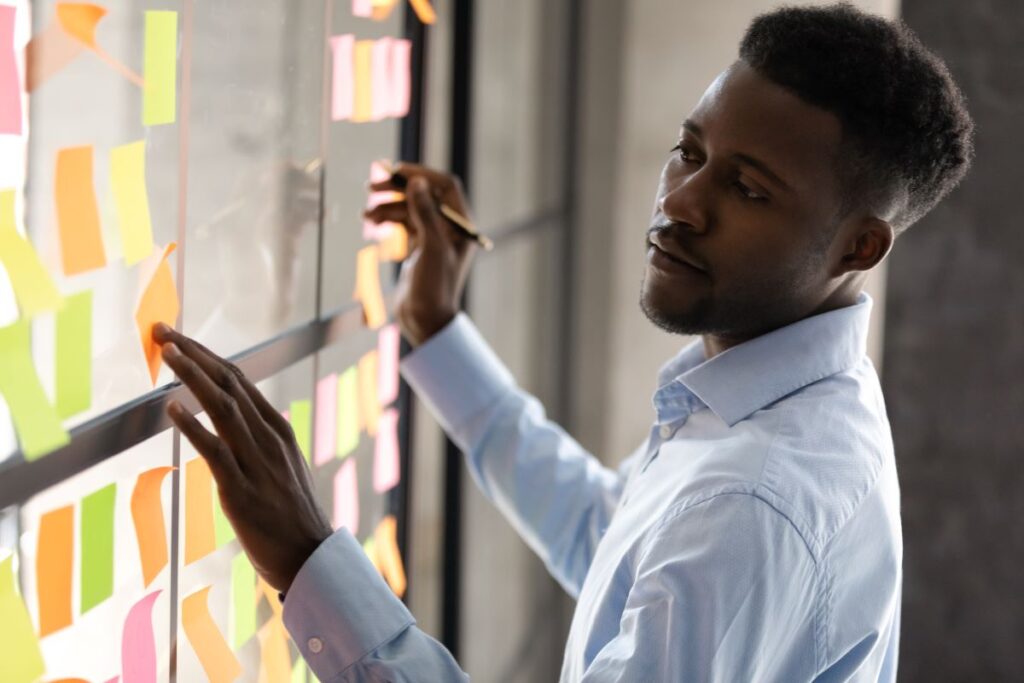 With new projects and assignments comes more responsibility in overseeing all the moving parts. Read below to learn some simple tactics and strategies you can employ to effectively manage your most challenging projects.
---
"Let our advance worrying become our advance thinking and planning."
Winston Churchill, former Prime Minister of the United Kingdom
---
Your boss just handed you a new complex assignment, and while you're thrilled about the opportunity, you're concerned about all the moving pieces. So how will you ensure that everything goes according to plan? By using project management methods, of course. Project management is the process of planning, organizing and managing a project to achieve a predetermined goal or outcome within a specific timeframe and budget. This rapidly growing field exists in almost every industry, and even if you're not a formally trained project manager, you will likely need these skills in your role. Let's look at some fundamental project management techniques and how to apply them to complete your next project successfully.
Clarify Outcomes
Begin by establishing your overall mission before immersing yourself in all the tasks necessary to complete the project. Ask yourself the following questions: What do I hope to achieve by executing this project? What is my ideal desired outcome? Once you're clear on the goal you want to reach, you can identify specific starting and ending points. Beginning with the end in mind will help you remain focused on your objective without becoming distracted.
Create a Project Plan
Now it's time to devise a well-crafted strategic plan that will act as a project roadmap and eliminate common missteps like poor communication, unclear processes and scope creep.
Start by dividing the project into manageable components. Consider making a visual map to break down your project into smaller tasks. Using pen and paper or a whiteboard, begin by drawing a circle in the middle with your final objective written inside. Then draw lines from the circle that describe each task you need to complete to reach your overall goal. If any sub-tasks still feel cumbersome, continue with the same process by circling them and adding lines that lead to descriptions of what you need to accomplish to complete them. Identifying the tangible deliverables of the desired outcome will help you define your project scope by setting boundaries for your project
Finally, you'll want to create a timeline with deadlines and benchmarks to avoid procrastination and falling behind your projected due date. Allow yourself more time than you think you'll need to complete the project; you can always move the deadline up or finish early. Consider at what stage you prefer to be halfway finished. Does your project naturally break at specific points into thirds or fourths? Also, remember to set measurable benchmarks for your tasks and sub-tasks so you can track significant phases of the project. For example, compare project processes and performance metrics to industry standards and best practices. You can measure specific indicators such as time, cost and labor against historical project data from similar completed projects to keep your project within budget, schedule and scope.
Identify Resources
Most projects require money, labor, technology, information and other resources. Producing a resource allocation plan will help you understand exactly what assets you need and the expected level of demand. Consider each task and sub-task in your project plan and identify the means necessary to achieve them. For instance, if your project involves launching a new podcast, you may need graphic designers to create a logo and marketers to write promotional copy that aligns with your brand. You may factor external purchases like recording equipment, audio editing software and sound-proofing technology into your budget. Remember to include resources that aren't activity-specific but parts of the project infrastructure, like additional office space or increased internet bandwidth.
Establish Accountability
If this is a team project, ensure everyone understands their responsibilities. Be clear with expectations and update the group regularly. If your budget allows, test drive some project management software like ProofHub, Scoro and Workzone to help your team collaborate more effectively. Project management tools that enable your team members to manage their tasks and time, share files and documents, and leave progress updates can be essential to keeping everyone in sync and on target.
Prioritize Tasks
Not all aspects of your project carry the same weight. Some things are more important than others. You may have elements of the project that are fundamental to the outcome and others that may be optional. Identify and prioritize essential tasks so you can be ready to abandon optional items if you fall behind on the project timeline.
Allow For Setbacks
Generally, most things don't go precisely as planned. While you can't plan for unknown risks, you can build a contingency plan for identifiable scenarios like going over budget or falling behind schedule. For instance, you could increase your budget to include unforeseen costs and extend the time required to complete each task to avoid unexpected delays. You can't always predict when you might lose team members or other resources, so relying on sound risk management is critical.
Communicate Consistently
Communication is critical throughout any project and should include all team members, clients, vendors and other stakeholders. Communicate regularly to keep everyone current on the project status, including changes or updates. Keeping the project top-of-mind for everyone involved will also encourage collaboration and innovation. Finally, sharing information about your schedule and work style with your team members to manage expectations is important. Talk with the team about their timetables and when they do their best work, and your project will run more smoothly.
Usually, a project isn't just the end goal itself but a piece of a larger overall mission or vision. So stay focused on the big picture; this will inform critical aspects of the project as you proceed through the project timeline. And remember to celebrate milestones and other wins, which will keep you and your team motivated. Projects can be complex and time-consuming, and acknowledging everyone's contributions is an excellent way to show appreciation.
---
Anne Evenson is a native Austinite and a proud Veteran's spouse with over 20 years of marketing, communications and program coordination experience in the public, private and nonprofit sectors. She is also a sculptor, jeweler and all-around dabbler in the arts and loves to help military-connected individuals discover their inner creativity.
---
Learning and professional growth go hand in hand. For regular career insights and information on continuing education programs offered by UT's Center for Professional Education, subscribe to our monthly e-newsletter, It's Your Career.