By Anne Evenson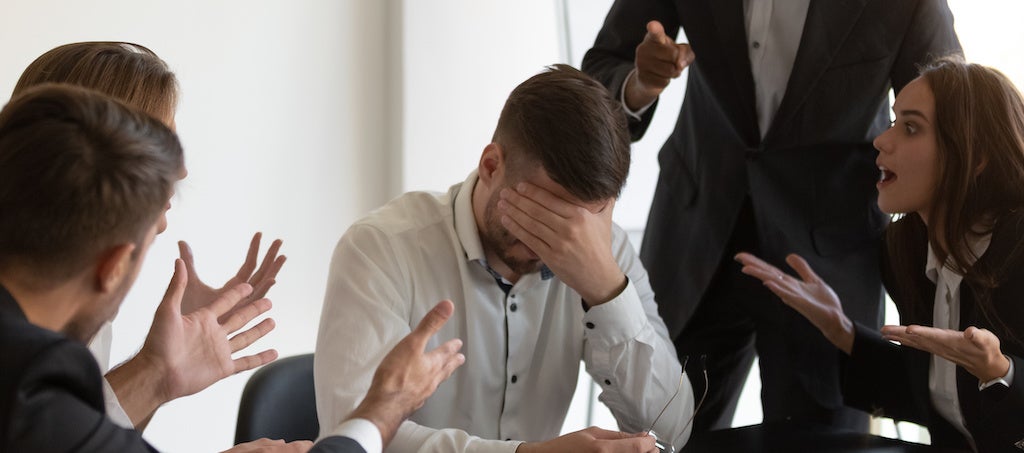 Protect yourself, your work and your reputation without compromising your self-respect.
---
"People who avoid all criticism fail. It's destructive criticism we need to avoid, not criticism in all forms."
Tim Ferriss, Entrepreneur, investor, author and podcaster
---
I've talked about how I first learned to give and receive constructive criticism while an undergraduate in art school. While this formal training in feedback has served me well in my personal and professional life, one thing I didn't fully grasp until I was older and more experienced was how to recognize and respond to destructive criticism. We've all encountered these subtle and not-so-subtle personal attacks at school, at work, and in our personal lives, and responding without losing your cool can be daunting. In this third installment of my criticism trilogy, I want to discuss how to recognize destructive criticism, protect yourself and respond gracefully and professionally.
Constructive vs. Destructive Criticism
Constructive criticism aims to help someone improve in a particular area and is supported by specific examples and delivered in a considerate and compassionate manner. Destructive criticism is negative feedback that is often incorrect, unsolicited, or downright malicious and can undermine, harm, or even destroy someone's work, reputation, or self-esteem. Unfortunately, people who engage in these personal attacks usually don't offer specific or actionable advice for improvement and often do so publicly to humiliate or degrade someone. Let's examine the four components of criticism:
Intent: The meaning or the purpose underlying the critique.
Delivery: The way the critique is delivered: tone of voice, word choice, body language.
Focus: The focal point or emphasis of the critique
Specificity: The explicitness of the critique and where it's predicated on objective facts or subjective opinions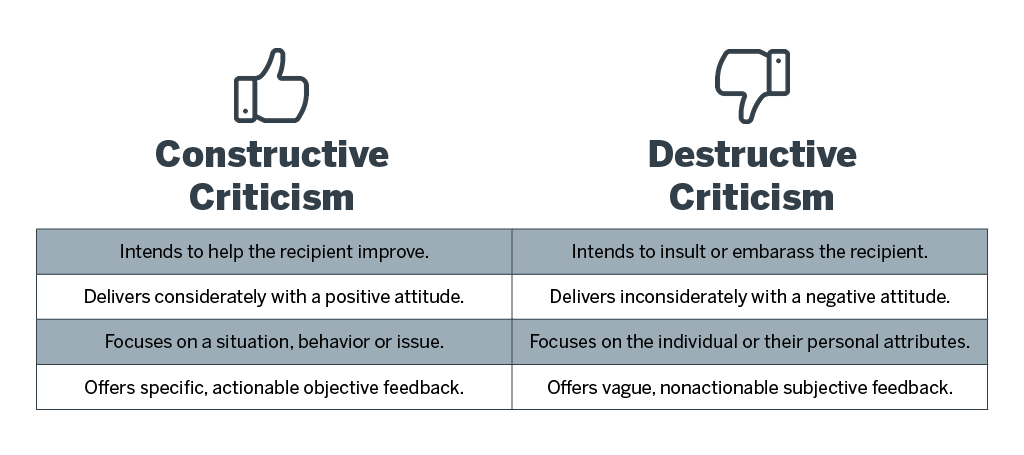 Examples & Effects of Destructive Criticism
Destructive criticism can take many forms, but the most common are the following:
Bullying is the unwelcome and persistent mistreatment of an individual that causes physical or emotional harm. This targeted behavior may include verbal, nonverbal, psychological, or physical abuse that is spiteful, offensive, aggressive, menacing, and unreasonable. Bullying can occur when someone in a position of authority uses it to intimidate or coerce their subordinates or between colleagues or peers.
Inadvertent Destructive Criticism is something that we're all capable of now and then. A thoughtless comment that's meaningless to one person might be offensive to their coworker or peer. Sometimes we deliver a critique that is unintentionally hurtful or even wrong. In these situations, it's best to apologize, reframe the comment more carefully and concentrate on solutions while inviting the feedback recipient to share their perspective on the situation.
Subordinate Destructive Criticism happens when a team member resists the authority of their supervisor or another member of the organizational hierarchy. This behavior is often discriminatory and usually stems from people's prejudices, like racism, sexism, or ageism.
Destructive Group Dynamics occur between team members, peer groups or coworkers and result in distrust, ineffective communication, missed deadlines and revenue loss. They include cliques who don't share information, disagreements that spiral out of control, and passive-aggressive behaviors like sullenness, stubbornness, and procrastination.
If excused or encouraged, destructive criticism will have disastrous ripple effects in any organization. For example, it causes dysfunction within teams, destroys culture, affects employee performance, and increases turnover in the workplace. At school and elsewhere, it creates conflict, toxic stress, and psychological and physical harm.
Protect Yourself
Now that you recognize destructive criticism, let's talk about how you can safeguard yourself. While it's true that an individual can't control what others say and do, only how one reacts to them, this doesn't mean that all criticism is relevant and helpful if only people would adjust their attitudes.
Curb any self-doubt about whether or not the feedback you're receiving is destructive criticism. If you feel hurt, fear, anger, shame, or other negative emotions, chances are something is wrong. Avoid second-guessing your intuition by considering the source of the feedback. For example, is your critic a respected person within the organization, or do they frequently bully others to prop up their lack of self-confidence?
Don't fault yourself. A healthy reaction depends on your level of self-acceptance: the act of accepting yourself and all your qualities, positive and negative, just as they are. If you don't have heaps of confidence and high self-esteem, that's okay; you can develop these traits with practice. I use Cognitive Behavioral Therapy to reframe negative thought patterns and avoid internalizing someone else's toxicity.
Lastly, the best way to protect yourself from destructive criticism is by dismissing it. If there is any grain of truth, take it and use it how you can; otherwise, it's best to ignore it. Please don't waste time trying to understand the person's perspective or empathize with them. Again, the priority is to protect yourself from harm.
Take Action
If this toxic feedback occurs regularly, consider distancing yourself from the person delivering it. If it's coming from a supervisor or colleague, I recommend that you document each occurrence to have evidence to support your complaint if you need to inform your HR department.
If you feel comfortable with confrontation, you may consider broaching the subject directly with the perpetrator. Sometimes asserting yourself is the quickest way to shut down this kind of damaging behavior. Be sure to explain precisely how they've impugned your character and why their critique is unhelpful. You can also request that they learn how to offer constructive criticism correctly or avoid disparaging you and your work altogether. They might respond antagonistically; however, they may also be receptive to a rational explanation of how others perceive them and the harm they're causing. At least you can walk away knowing that you attempted to remedy the situation in a calm, reasonable manner without being destructively critical yourself.
On a more personal note, I've been witness to and the recipient of destructive criticism more times than I can count, and I understand how psychologically devastating it can be. This toxic behavior can cause significant mental health issues like depression and anxiety and has no place in our professional or personal lives. It took me some time and effort to learn how to handle this thorny issue without compromising my self-respect, but it was totally worth it. So, I'll leave you with this life lesson: When someone is bent on tearing you down, it rarely has anything to do with you; how other people treat you is actually how they see themselves.
---
Anne Evenson is a marketing specialist and copy editor working in Austin, Texas. She holds a BFA in Fibers and Printmaking from the Kansas City Art Institute.
---
Learning and professional growth go hand in hand. For regular career insights and information on continuing education programs offered by UT's Center for Professional Education, subscribe to our monthly e-newsletter, It's Your Career.