By Anne Evenson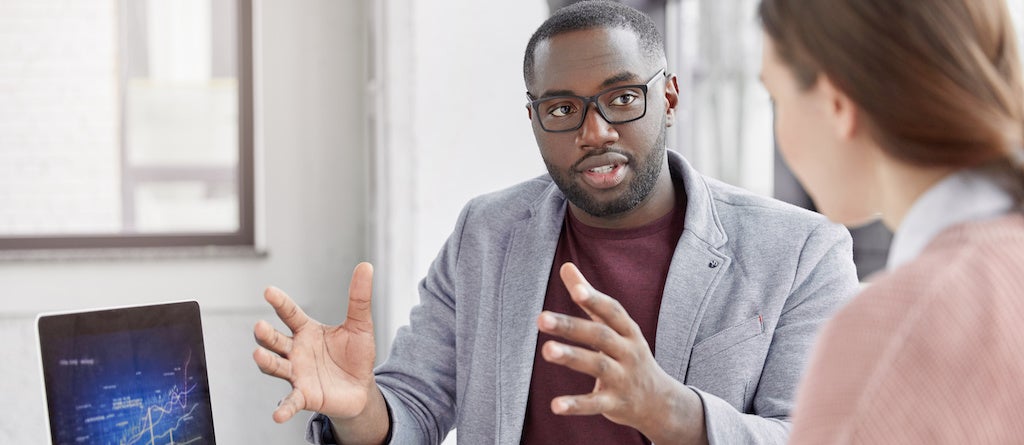 Providing feedback can help team members become more effective at their job, but it can be difficult to be critical of others. Constructive criticism requires the appropriate timing, delivery and consideration.
---
"Criticism may not be agreeable, but it is necessary. It fulfills the same function as pain in the human body. It calls attention to an unhealthy state of things."
Winston Churchill, Former Prime Minister of the United Kingdom
---
When I went to art school, participating in critiques of my peer's work was part and parcel of my fine arts education. Our professors taught us to approach art from an objective perspective. It wasn't enough to say that you liked or disliked someone's work; you had to explain why. Unfortunately, they didn't always practice what they preached, and some of these critiques devolved into negative diatribes. However, delivering truly constructive criticism doesn't need to be a challenge. Whether it's artwork or professional work, understanding how to offer someone productive feedback is critical to helping them develop personally and professionally. Read on and learn what constructive criticism is and discover best practices for effective feedback.
Constructive Criticism Vs. Destructive Criticism
Before you learn how to give constructive criticism, you must understand the distinction between constructive and destructive criticism. A constructive critique aims to help someone improve in a particular area and should be supported by specific examples and delivered in a considerate and compassionate manner. Unfortunately, most of us have experienced thinly-veiled negativity mischaracterized as constructive criticism. This behavior is destructive criticism and is a personal attack intended to damage someone's self-esteem. It's often delivered publicly and offers no specific or actionable improvements, and can diminish a person's work or achievements and even harm their reputation. Now that you recognize the essential elements of constructive and destructive criticism, let's dive into ways to offer effective feedback.
Look Before You Leap
Don't give feedback without thinking it through first. Even if the idea of how someone could improve popped into your head suddenly, take a day to ensure that you need to communicate this feedback and that you can do so in a productive, positive way. Ask yourself these questions:
Will this feedback help this individual improve?
Do they need to hear this feedback?
Am I ready to help them brainstorm ways to improve?
What further actions can the individual take?
Be accurate and put the feedback in context, so you're on the same page as the recipient. For example, if the issue involves a significant correction, you don't want them walking away thinking it's a trivial matter. Conversely, you don't want them assuming they need to scrap their entire project when you're simply offering a few minor edits. Finally, be mindful of your timing, and don't surprise people with feedback. If someone is having a difficult day or week or is stressed and engaged in a high-priority task, wait until they're in a more relaxed, receptive state of mind. Don't delay unnecessarily, but try to be emotionally intelligent with your timetable.
Don't Make it Personal
Address the situation, not the individual, when delivering feedback. Focus on the behavior or issue instead of the person. You can do this by using a passive voice versus an active voice. For example, say, "The assignment is late," not "You are late," or "The design needs more negative space," not "You are a terrible designer."
Avoid personal attacks like "You're so disorganized/untalented/apathetic." Instead, use "I" statements to reflect your experience and take the sting out of your critique. When you begin a sentence with "I think…" or "I feel…" rather than "You did…" or "You said…" you are communicating your thoughts and opinions, not your judgments which often make people feel defensive. Share how the behavior affects you rather than how bad the behavior is by itself. This approach redirects the focus away from the recipient and onto yourself, giving them insight into your perspective and allowing them to evaluate the situation objectively.
Stay Positive
Maintaining positivity can make delivering constructive criticism easier. Keep things conversational and include favorable comments when appropriate. Be direct but not rude, and mind your tone and body language, which should be like any other work discussion you might have with them. Have a collaborative dialogue by asking for the other person's perspective and being open to their thoughts and ideas. Most constructive criticism includes brainstorming potential solutions and next steps with the recipient. Not only will they feel valued, but they'll be more receptive to your feedback in the future. And you'll want these critiques to become routine occurrences because periodic feedback leads to improved results.
Offer Specific Feedback
Be precise with your feedback and break it down into key points so that people can follow through on concrete action items. For instance, saying "this marketing email needs to be more polished" is quite vague. Instead, you might say, "When you send me an email draft, please ensure you proofread the copy, write an interesting subject line and use bold text to emphasize the main message." Keep the focus on objective points rather than subjective opinions. Instead of saying "I don't like that font," consider something like "I think a sans serif font is easier to read in this context."
Avoid the "feedback sandwich," a popular management strategy that involves inserting critical feedback between two compliments. The theory behind this technique is that by praising the individual at the beginning and end, you'll make it easier for them to swallow the criticism in the middle. Don't use this passive-aggressive method of offering feedback. People will likely perceive your praise as insincere, and your true message may be lost. Its popularity notwithstanding, the feedback sandwich is an ineffective way to convey beneficial, constructive criticism.
Confirm Expectations
Before concluding the critique, ensure that the recipient is clear about the expectations you've set for them. What might sound obvious to you could come across as entirely different to someone else. For example, if you tell a colleague that their work is wrong and needs to be "better," but you don't elaborate on what "better" looks like, they'll likely have their own ideas or no idea at all about how to improve their work. You'll also want to ensure that the recipient receives your feedback in the way you intend, particularly if your critique revolves around a complex issue. Consider ending the discussion with something like, "So that I know we're on the same page, can we please review your takeaways from this conversation?"
High-functioning teams aren't afraid to confront issues directly and honestly because they rely on foundations of trust. So whether you're an artist or an accountant, a manager or a marketer, giving good, constructive criticism is vital to your colleagues' performance and development. And the better you are at delivering effective feedback, the more gracefully you'll be to receive it!
---
Anne Evenson is a native Austinite and a proud Veteran's spouse with over 20 years of marketing, communications and program coordination experience in the public, private and nonprofit sectors. She is also a sculptor, jeweler and all-around dabbler in the arts and loves to help military-connected individuals discover their inner creativity.
---
Learning and professional growth go hand in hand. For regular career insights and information on continuing education programs offered by UT's Center for Professional Education, subscribe to our monthly e-newsletter, It's Your Career.