By: Anne Evenson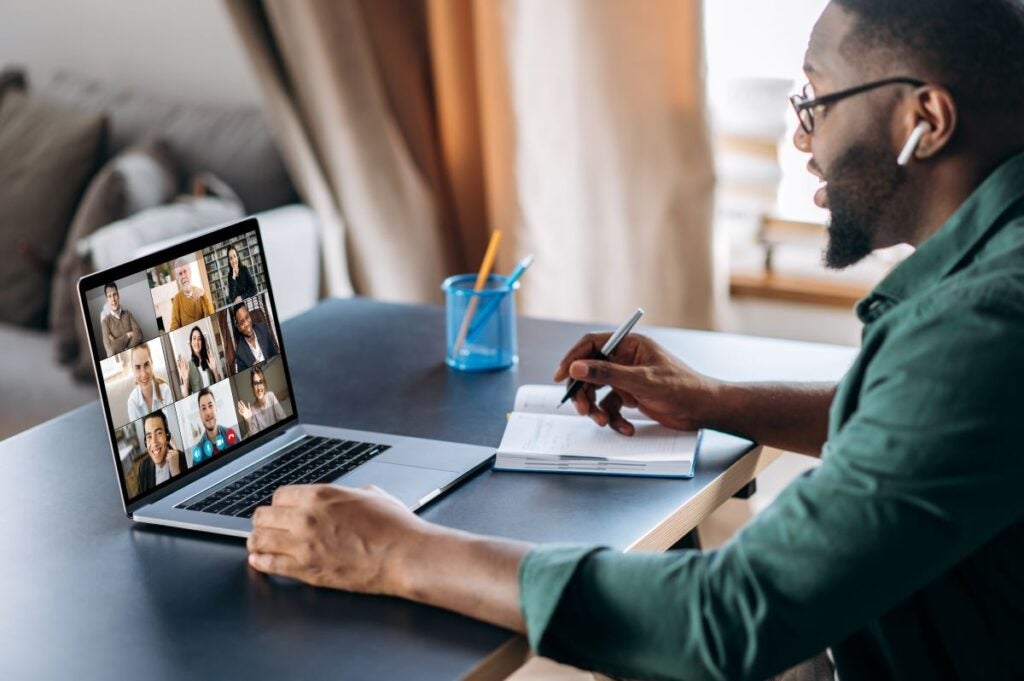 Zoom calls, instant messaging, and working alongside pets are all part of the work-from-home environment. Read below to learn some simple tactics and strategies you can employ to effectively manage your remote team.
---
"Success in management requires learning as fast as the world is changing."
Warren Bennis, an American scholar, organizational consultant, author and a pioneer of the contemporary field of Leadership Studies
---
Before the onset of the COVID-19 pandemic in 2020, only a small fraction of the American workforce was familiar with the benefits and challenges of working remotely. According to the American Community Survey conducted by the U.S. Census Bureau in 2019, 5.7% of Americans, mainly in the sales, tech and finance industries, listed remote work as their primary arrangement. By 2021 this number had tripled to 17.9%. Now, with more than a quarter of American employees working predominantly from home—and that number is predicted to rise—supervisors must learn new skill sets to manage direct reports remotely. Continue reading and discover steps you can take to boost your remote team's engagement and productivity.
Understand the Challenges
Unfortunately, many organizations already have actively and passively disengaged employees, so you can imagine how working remotely affects their engagement, performance and connection to organizational goals. Before you act, it's best to know the factors that can make remote work tricky. Some fundamental challenges of remote work include:
Absence of in-person supervision
Insufficient access to technology and information
Non-work-related distractions
Social isolation
Exacerbation of existing work silos
You may notice the deterioration in productivity and commitment of even high-performing employees when they begin working remotely, especially if the switch to remote work happens suddenly. Now that you understand the potential pitfalls of managing a team remotely, here are some simple tactics and strategies you can employ to avoid them.
Be Present
Successfully supervising a remote team begins by striking a balance between two extremes. On the one hand, you don't want to micromanage your employees to the point where they don't feel invested in their work. But, on the other hand, you shouldn't be perpetually absent or unavailable either. Effective supervisors are present, approachable and ready to offer advice and direction whenever necessary. This is especially true in a virtual environment where increased visibility improves employee engagement and enhances organizational outcomes.
Communicate Regularly
Schedule regular team meetings and individual check-ins. It's essential to bring everyone together at least once or twice a month to maintain connection, cohesion and trust. One-on-one sessions (15 or 20 minutes) are also important because they allow individuals to ask for support when necessary or discuss issues they aren't comfortable sharing in a group setting. Remind your team that you're also available outside your scheduled one-on-one video chats or phone calls.
Working remotely is also an excellent opportunity to implement new internal communication channels like video conferencing software, instant messaging apps and internal social media sites like Slack or Yammer. Just be sure that all your team members have access to the technology and can use it properly. Consider designating some of your early adopters as guides for team members struggling to adapt to new technology.
Set Clear Expectations
Setting concise and achievable expectations for your team is always essential but even more so in a remote environment. Establish specific rules of engagement like virtual work hours, project timelines and document-sharing processes with everyone on your team. You can review more nuanced expectations during your one-on-one meetings if you manage a cross-functional team.
Also, be mindful of how you convey expectations because this will affect how your team responds to and executes them. Exercise empathy and patience to create an inclusive environment. For example, if you're struggling to sustain performance levels now that you're working from home, your employees probably are too. Be realistic about everyone's remote work situation. Provide supporting documents to help your team navigate these new circumstances that your team can refer back to when necessary. Finally, remember to set priorities just like you would in the office and request regular feedback to ensure alignment with organizational goals.
Emphasize Outcomes Over Activities
You may feel the temptation to monitor your team members regularly to ensure they are logged in at the agreed-upon times and doing their work, but the end result should be your primary focus. If you are an effective manager, not a micromanager, you should feel assured that you've assembled a talented team who are capable and trustworthy.
Avoid inflexibility by understanding that your staff may have their own approach to completing their tasks and producing ideal outcomes. Ask them if there are specific resources you can provide to help them deliver their best work, and they'll appreciate you even more for trusting in their expertise. After a while, you'll see patterns in how individuals operate remotely. Consider discussing these trends with your team to determine if you can make compromises to allow for people's different environments and habits.
Acknowledge Distractions
Understand and accept that distractions at home are inevitable and sometimes even humorous while also conceding that there are plenty of distractions in an office setting as well. As a supervisor, you must show your team that you have a life outside of work, just like they do, and that you understand the importance of stepping away to walk the dog or feed cranky children.
To avoid any feelings of guilt that you or your employees might have related to these often unavoidable interruptions, cultivate an environment of candor and openness where team members can share their challenges and work together towards a solution. You won't always solve every issue, so try leaning into some distractions by creating a dedicated channel for shared diversions like silly cat memes or funny photos of your kids. Regular moments of levity can go a long way to helping everyone relax and renew their dedication to shared goals.
Part of successfully leading a remote team is providing a healthy work-from-home balance that fosters trust and autonomy in your group. In addition, this highly effective management style will lead to improved performance and engagement, resulting in employees feeling a sense of loyalty and motivation rather than resentment and disengagement.
---
Anne Evenson is a native Austinite and a proud Veteran's spouse with over 20 years of marketing, communications and program coordination experience in the public, private and nonprofit sectors. She is also a sculptor, jeweler and all-around dabbler in the arts and loves to help military-connected individuals discover their inner creativity.
---
Learning and professional growth go hand in hand. For regular career insights and information on continuing education programs offered by UT's Center for Professional Education, subscribe to our monthly e-newsletter, It's Your Career.