By Anne Evenson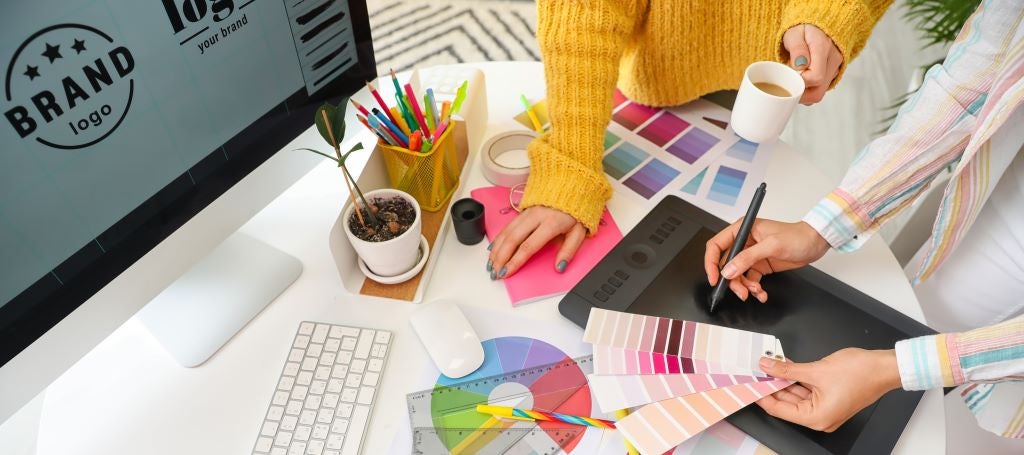 Are there certain products, brands, or companies that you instinctively feel drawn to? It's likely that you have a graphic designer to thank for that!
---
"The effect of good design is in many cases measurable, and the cost of poor design is inescapable."
Greg Hervey, Graphic Design Instructor, UT CPE Graphic Design Certificate Program
---
Many people have only the vaguest notion of what graphic design is. Even those who work with graphic designers sometimes seem mystified by the process and presume it involves sorcery. While excellent graphic design is magical to behold, it's produced not with potions and spells but through a thorough understanding of form, function and purpose. Graphic design permeates our real and digital worlds, yet many people never consider how and why it was produced or by whom. Discover how these visual storytellers use their design skills to send clear, meaningful messages.
A World Without Graphic Design Would be a Cold and Lifeless Place
Imagine a world without images or text. Things would be downright dismal if nothing had any color, texture or form. How could we even contemplate our existence if the only font was Times New Roman? Thankfully, graphic design is everywhere. This ubiquitous form of visual communication significantly affects how we perceive and understand the world around us. Without it, you wouldn't know which bag of coffee to buy at the grocery store, what the graphics on your phone signify or how to make an appointment on your doctor's website. These visual cues were all carefully crafted by a graphic designer to inform, assist and direct you.
"Graphic design as an industry and a profession is often not given due credit as a serious discipline," says Greg Hervey, graphic designer, web developer, design educator and UT CPE instructor. "It has no codified professional standards or licensing, like the medical or legal professions. Moreover, its highly artistic aspect can be hard to quantify, and laypeople can easily mistake purposeful design as accidental. But the effect of good design is in many cases measurable, and the cost of poor design is inescapable."
Graphic design isn't just for selling products or services. It's a form of storytelling that informs while evoking emotion, and it's been with us for eons. The "Spotted Horses" mural inside France's Pech Merle cave is an excellent example of prehistoric graphic design. The Egyptians perfected visual communication with their pictorial hieroglyphs. Graphic design also has a long history related to activism and cultural shifts. For example, in the mid-20th-century, during intense social and political upheaval, visual artists boldly realized the spirit and ideals of the Cuban revolution with their posters. Today, the raised fist is a globally recognized graphic symbol of solidarity. Whatever the message, profound or practical, a compelling graphic design captures the viewer's attention and elicits a particular feeling or response.
Discover the Principles and Elements of Design
Though it's not the only way we encode information, the human brain is programmed to prioritize visual information, often almost instantly and without conscious thought. Technically speaking, graphic design uses some combination of words, symbols and images to visually represent an idea or concept with a specific intent and purpose. All graphic design is based upon five principles: alignment, repetition, contrast, hierarchy and balance. The elements that support these principles are things like scale, proximity, shape, line, size, color, texture, imagery and typography.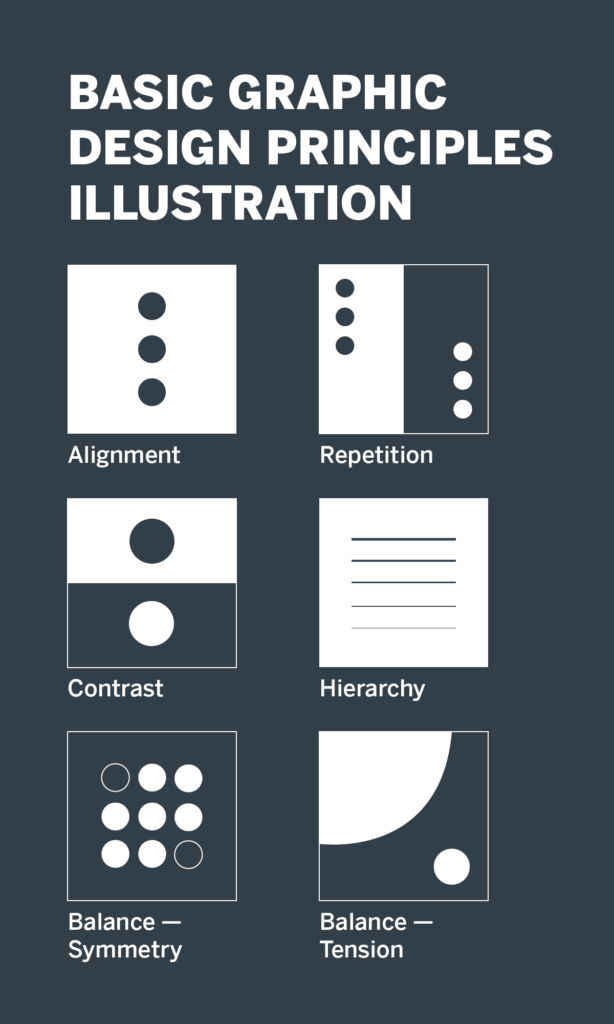 Alignment is all about order. Have you ever looked at an ad and not known whether to look left, right or center? Proper alignment of your design elements allows the viewer's eyes to circulate fluidly through the visual message. In addition, aligning elements that are not near each other helps establish a relationship between the items creating continuity throughout the piece.
Repetition strengthens a design by unifying disparate elements to create cohesion. By repeating your design elements, you foster a sense of familiarity and identity with your audience.
Contrast is an effective way to emphasize a particular aspect of your design using two opposing components. Things that contrast each other like dark and light, smooth and rough, thick and thin, large and small, and cool and warm generate impact.
Hierarchy establishes visual organization by arranging things according to their importance, so the viewer can understand what rank an element holds within the overall design. Examples of hierarchy can be seen most often in typography, where decisions about the font's position, size and weight signal the most significant part of the message.
Balance refers to the placement of elements within a design and how they influence its stability and structure. The symmetry or tension of the elements affects how weight is distributed in an image. Symmetrical components can feel harmonious and traditional, while elements in tension can feel dynamic and bold.
Explore a Future in Graphic Design
Companies are aware that their consumers expect a high level of service and functionality in their products and services. Hence, organizations invest heavily in skilled graphic designers with UX design experience. User experience (UX) is an emerging field in design focused on meaningful and relevant user-centric experiences. The UX design process involves a detailed understanding of the desires and requirements of a particular audience of end-users. It's a diverse discipline, combining facets of market research, psychology, business, design and technology.
All graphic designers use a combination of art and technology to generate their designs and often work with other creative people such as printmakers, photographers, marketers and advertisers. They typically use various design software to produce digital graphics for websites and social media or tangible items like signs, brochures and product packaging. In addition to strong technical skills, graphic designers must also excel at presenting their design concepts to stakeholders. Graphic designers work in media, advertising, public relations, publishing and a wide range of other industries. Many are entrepreneurs who work independently or have started a design firm of their own.
"Graphic design offers an infinite number of possibilities from publication layout and design to environmental design, to interface design and more," says Hervey. "One graphic designer can work on varied and diverse projects throughout their career. I've been a freelance designer for over 20 years and have rarely worked on the same type of project twice. Diversifying and expanding your skillset yields numerous career opportunities."
Graphic design isn't just about learning new software; it's a whole new way of thinking about the world and how everything in it relates to everything else. Graphic designers enlighten and engage people with their singular eye for design. Enroll in UT CPE's Graphic Design Certificate Program and develop the creativity and skills to master this magical art!
---
Anne Evenson is a native Austinite and a proud Veteran's spouse with over 20 years of marketing, communications and program coordination experience in the public, private and nonprofit sectors. She is also a sculptor, jeweler and all-around dabbler in the arts and loves to help military-connected individuals discover their inner creativity.
---
Learning and professional growth go hand in hand. For regular career insights and information on continuing education programs offered by UT's Center for Professional Education, subscribe to our monthly e-newsletter, It's Your Career.