By Sandra Kleinsasser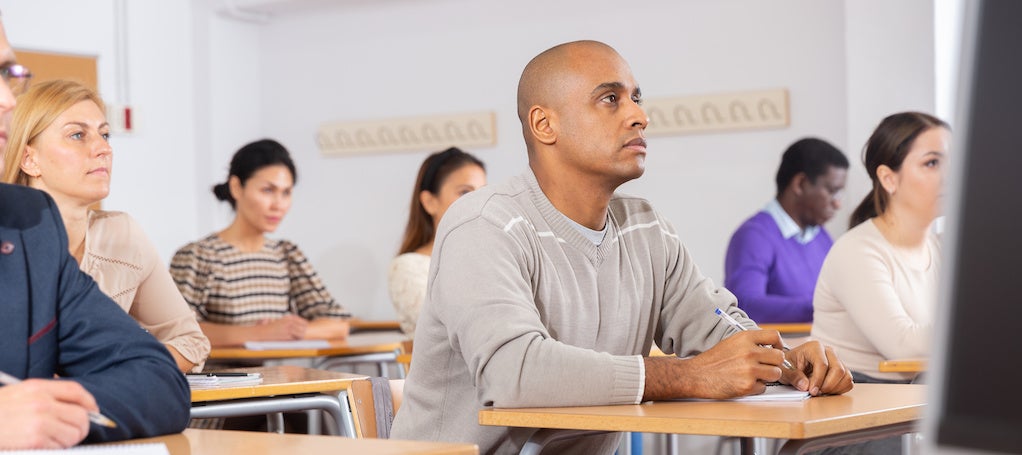 Enrolling in graduate courses or certificate programs can be good for your career… if you make the right choices. Read our latest blog for tips on putting in the work to decide your best learning path.
---
"Whether you have your eye on climbing the corporate ladder or you're an artist, obtaining a Master's degree or graduate certificate could greatly expand your wheelhouse and open you up to more job opportunities."
WeAdmit.com (counseling service)
---
Wondering about upskilling to improve your career options? Will you choose graduate school or a certificate program? Devote weeks or months? Will you level up within your current field or dive into a new industry?
These are only a few of the tough questions that you'll face as you decide your next steps.
During the 2019-2020 school year, more than 60,000 learners enrolled in ongoing education programs at UT Austin. They represent 60,000 different paths and strategies for decisions about what to study and when to enroll. Finding your answers requires serious homework if your results are going to match your dreams.
"I believe you can never go wrong with education, but understanding the 'what' and 'why' before you start any program is essential," said Rosemary Guzman Hook, founder and principal at Hook The Talent LLC, an Austin-based talent acquisition and career-coaching practice.
"The work begins before you choose a class," she said. "The real question that working professionals want to start with is 'What do you want to do?' then determine what degree or certificate program will help you move the needle to get there."
"Everyone hopes for an easy answer, but it is not always obvious," said Hook, who has recruited for industries including digital marketing, SaaS, management consulting and educational publishing.
In some industries, certificates are mandatory for advancement, with a clear-cut path. Many job postings require the Project Management Professional (PMP) certificate, for example. Employers in the Human Resources field might require the Professional in Human Resources (PHR) or the Society for Human Resource Management (SHRM) certificate.
On the other hand, a graduate degree may be required for licensing or upper management roles, such as the Master of Science in Social Work or Master of Business Administration.
For industries with a less clearly defined path, learning choices can seem overwhelming. For example, UT Austin offered 136 Continuing Education Professional Certification programs during 2019-2020. How to begin?
Figuring Out the What and Why
Hook recommends starting with assessment and exploration before committing to the time and expense of classes:
Self-assessment. Uncover, identify and recognize your interests, skills and values and how these might relate to possible career options. Will those career options allow you to make a living at a standard that you find acceptable?
Career exploration. Investigate the jobs and industries that match your self-assessment. Talk to actual employees and hiring managers if possible. What degrees, skills or certifications do these positions require? How much experience? Could you make lateral moves within the same company to accomplish your goals? Does your current employer offer or pay for training? Are you lacking a specific skill that would lead to advancement? Would more or different experiences substitute?
"This sort of research and soul searching takes time and many people give up. They just aren't prepared to make the effort," Hook said. For some, this is the point when a career coach can provide guidance for better research.
Match Your Needs to Training
Your research should help clarify your budget and time commitment, as well as salary potential. For example, you might decide that you could handle a part-time online certificate or weekend executive program instead of a full-time master's degree. Helpful information including career resources, tuition discounts and upcoming courses is available here.
Make sure the certificates or diplomas you plan to pursue align with the career move you envision.
Programs that seem similar may not produce the same results or have the same price tag, Hook explained, recalling a university that offered a Master of Project Management program for thousands of dollars more than a traditional PMP certificate program available elsewhere. The graduate program provided no professional certificate, making it more time consuming and expensive, but a mismatch for a learner seeking the certificate. The college coursework was valuable, but didn't meet some students' needs.
Your research should also uncover any in-house or corporate training offered by your current employer. For example, many companies develop specialized training and some work with UT Austin to provide employee development in business analysis, project management, communications, leadership, sales and negotiations, management and more. A partial list of these companies is here.
Exploring and understanding your goals is your first test as a lifelong learner. Give yourself an A when you confidently sign up for your first class.
---

Sandra Kleinsasser is an independent writer/editor and former Executive News Editor at the Austin American-Statesman.
---
Learning and professional growth go hand in hand. For regular career insights and information on continuing education programs offered by UT's Center for Professional Education, subscribe to our monthly e-newsletter, It's Your Career.