By Sandra Kleinsasser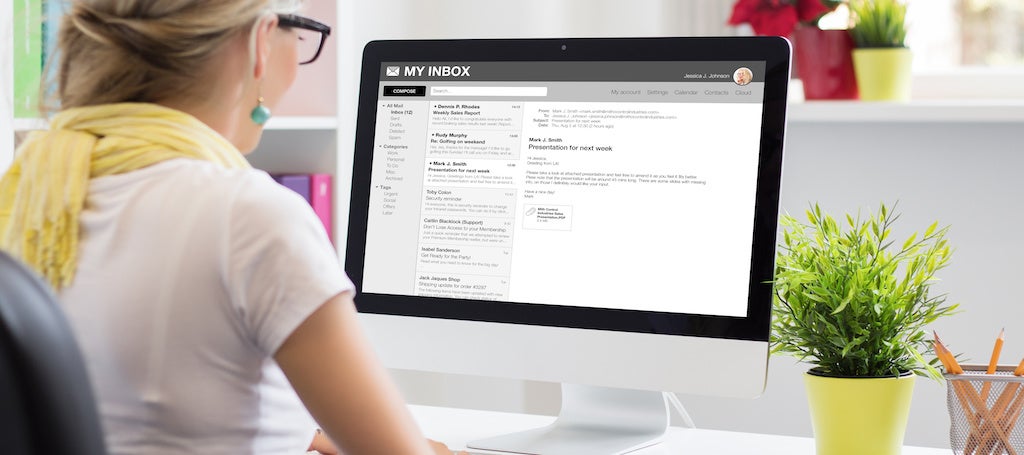 Email is a primary form of communication in the workplace. Make sure you protect your professional image with clear, careful writing.
---
"Be bold. Be fast. Get to the point right away. The best email communication is simple and clear."
Constance Hale, American writer and critic
---
Some of the most important writing you will create will be in the form of email — notes to the boss, updates on projects, directions for completing tasks, even cover letters for job applications. The challenge is that the average time spent reading an email is 10 seconds.
In that 10 second window, murky writing, factual slip-ups and wordiness can make you seem careless, unreliable and a waste of time. Protect your image with clear, careful writing and hang on to those extra seconds.
As a communications specialist at a large state agency, I saw more than my share of off-track emails while helping colleagues become more effective writers.
Let's take a look at one of these misguided notes. (Changed slightly to protect the innocent, of course.) Would you open this email? Spoiler alert: many hit Delete immediately.
Subject line: IMPORTANT: READ THIS
(Sent to entire division)
Per executive order for security purposes, all computers linked to the Super system will be updated with Version 2 of the latest operating system over the weekend. Effective Monday at 8:00 a.m. employees currently using Version 1.1 software must reboot their desktop computers manually in order to activate this important security update. The optimal time frame is within 12 hours.
Failure to comply could result in security breaches or network failures.
Agency issued laptops must be brought to the central office for updates by appointment.
This action is limited to PCs in the Jones building.
–IT
Managers in this department were frustrated when few workers complied. So, they sent this out again! Twice!
Check out my suggested rewrite. These notes on writing for clarity and effectiveness may help you improve your emails, too.
Subject line: Action required: Restart PCs Monday, Oct. 18
(Sent only to Jones building personnel)
To all staff with desktop PCs,
Please restart your computer between 8 a.m. and 8 p.m., Monday, Oct. 18, to receive new security updates. Find directions here.
If you have questions, need help or need to schedule a laptop upgrade please call 512-XXX-XXXX.
Thank you,
Sara Smith
IT Upgrade Department
Suggestions and discussion.
1. Make the subject line work for you
Avoid the all-caps trap. No one likes to be yelled at, and no one believes the label IMPORTANT.
Strive to answer the question "Why do I care?"
An action clue helps readers prioritize. Besides "Action required," you might use "FYI only," "Request" or "Second Request."
2. Be accessible to all
Red or green fonts can be difficult to read for those with visual challenges such as color blindness. Many emojis and blinking characters are difficult to discern.
3. Target the right person or group
Take the extra steps to research your audience and tailor your mailing list if possible. This is critical when you are preparing a cover letter for a job application. In the example above, only the Jones building was affected. No need to spam everyone else.
4. Say just enough.
Author and editor Rob Asghar, writing in Forbes, says that the ideal email length is two sentences. Give key information or the key question you need answered. "For a deeper dive, a phone or Zoom call is in order."
In our example, focusing on the action needed and timeline outweighs the weekend's preparation or executive order. The original email was more than 100 words; the rewrite is less than 50.
5. Convey professionalism
By writing in complete sentences and using proper punctuation, grammar and capitalization, you convey a sense of authority and competence. You and your message earn respect. In a group email like this one, use your name to encourage compliance. Don't hide behind a faceless title or department.
6. Include specific time elements
Be clear about dates, days and times. Say Monday, Oct. 18, not next Monday, tomorrow or a week from today. There is no guarantee when an email will be read or when a 12-hour window opens and closes.
7. Make it easy to comply
Spell out directions in simple, direct language and provide a contact number. For more complicated directions, provide a link.
Doublecheck, before you hit send
Don't be that person who follows every note with a correction or clarification.
My personal checklist:
Reread everything. Check spelling and context. Autocorrect can trick you.
Are days and dates accurate? Do they match?
If using a template, check that all information is filled in.
Are names, titles and positions updated?
Do web links work?
Is the attachment really there?
Check all math.
For more writing help, check out these CPE resources: Quick Writing Tips to Polish (and Perfect) Your Professional Image,  Effective Business Writing and Mastering Mechanics: Proofreading, Punctuation and Grammar.
*According to a 2021 study by email marketing and analytics company Litmus.
---

Sandra Kleinsasser is an independent writer/editor and former Executive News Editor at the Austin American-Statesman.
---
Learning and professional growth go hand in hand. For regular career insights and information on continuing education programs offered by UT's Center for Professional Education, subscribe to our monthly e-newsletter, It's Your Career.